Download or view your free online RV Resort and Campground Directory of America's best RV and camping destinations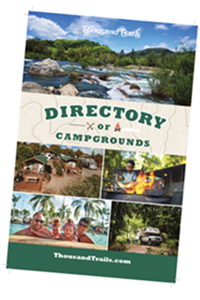 At Thousand Trails campgrounds, enjoy the best in outdoor destinations, recreation, and family camping! We invite you to learn about all we have to offer with our free Online Camping Directory.
Whether you RV, have a pop-up, or enjoy tent camping, we encourage you to try a Thousand Trails campground near you.
Enjoy campfires, cook-outs, nature trails, fishing and much more with our Annual Camping Pass.
Purchase your Annual Camping Pass Today
Camp All Year for One Low Price
Customize your pass based on your camping preferences
Explore over 80 camping destinations
By clicking the submit button above, I am giving MHC Property Management, L.P. and its affiliates permission to email me with information and offers on their campgrounds and RV resorts, including memberships and other vacation products. You can unsubscribe from this list at any time by sending an email to opt-out@equitylifestyle.com